Benefits of Taler
Taler is easy to integrate with existing Web applications. Payments are
cryptographically secured and are confirmed within milliseconds
with extremely low transaction costs.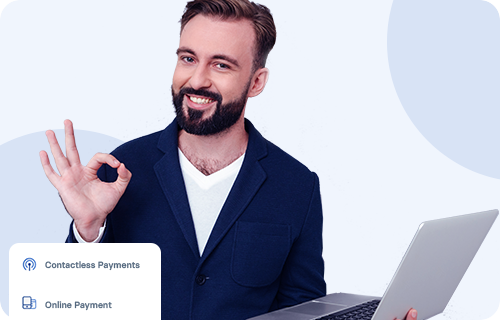 For Merchants
Taler offers efficient payments and backoffice procedures with security, privacy and data minimization by design. Payers and payees can rely on technology, and do not need to purely rely on trust anymore.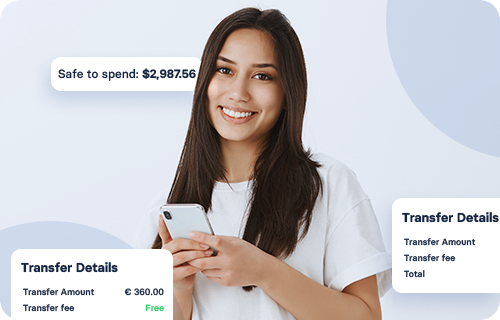 For Users
Taler provides the world with a payment solution that definitely makes sense in a society where privacy, data safety, technical security, and reliability become more and more crucial for everyone.
Electronic
Wallet

For Fiat
and Crypto-Currencies

This electronic instant payment system enables users to convey values and money via the internet, using electronic coins stored in wallets on users' devices.
The wallet can be preloaded with any digital currency and then used like cash
Online payments can happen with a single click in real time
Browser wallets, mobile wallets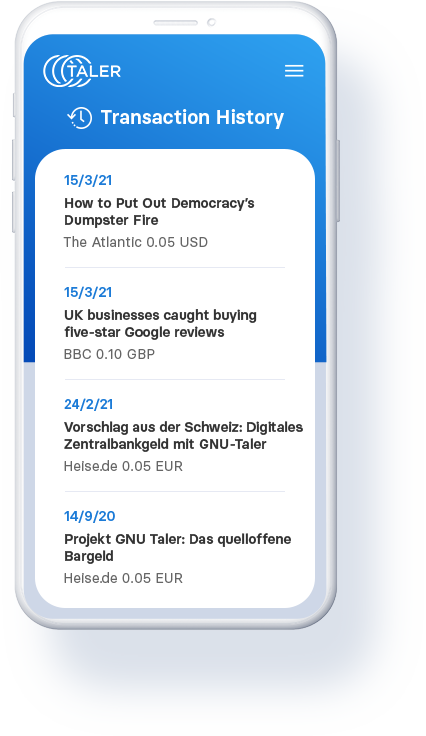 Micropayments

with Taler

Micropayments for internet transactions have been an unresolved challenge due to high transaction costs. Our solution enables new online business models based on microtransactions:
Using efficient algorithms, minimization of data and one-click authorization, lean process flows,
Establishing a new payment standard with built-in security, privacy and data minimization by design,
Fostering competition between Exchange operators based on Taler's free open-source protocol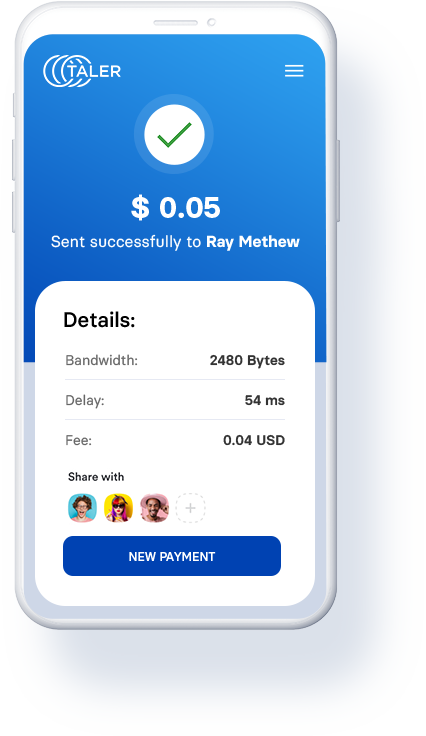 Privacy

and

Transparency

are Top Priorities at Taler

Privacy by design and thoroughly programmed algorithms help diminish payment fraud.
Transactions within the payment system use blind signatures which effectively prevent abuse by third parties, even attacks from inside an Exchange operator
Taler lets users trace back all payments and contracts if they want a proof of purchase with provable electronic receipts of transactions which can even be used as evidence in court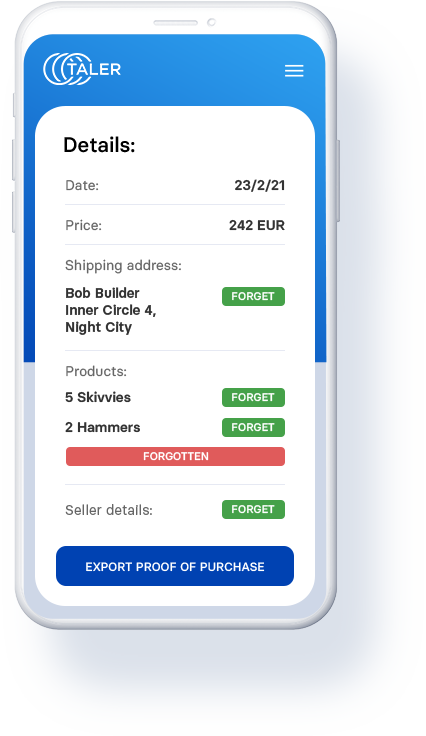 Payments via
Email

or

Messenger

or IoT

Partnerships have been signed for email / messaging integration.
Taler coins can be sent attached to an email
Wallets can be included into email and messenger clients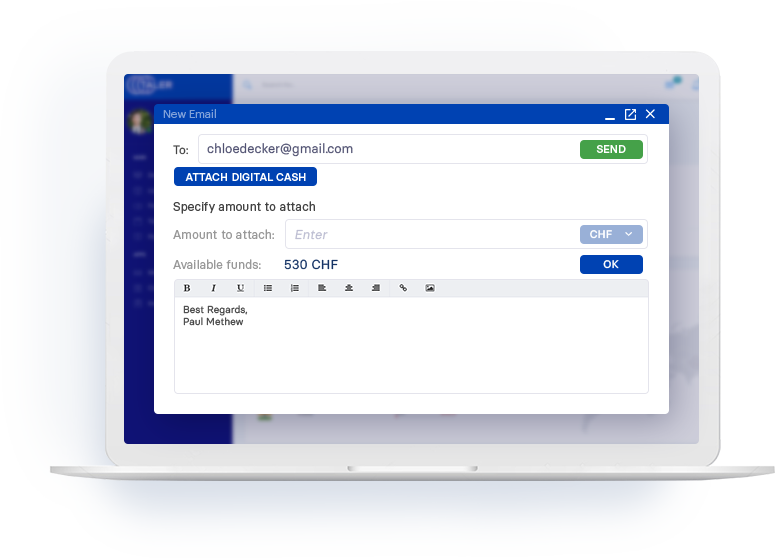 What Makes
Taler

Unique For
Merchants And Users

Instant one-click payments
One-click transactions at Web-speed and instant credit of incoming funds
While the payment system remains effective, economic and stable, it always offers fast transaction throughput.

Reliable
No legitimate customer will get rejected by fraud detection
One-click authorization instead of authentication for improved usability and elimination of fraud.

Frictionless security
Payments do not require users to sign up or login
Users are not required to register at a merchant's web shop or at Point of Sale. Taler does not suffer from many kinds of security problems such as phishing or counterfeit cards.

Flexible
Any currency, any amount
The wallet can be preloaded with any digital currency (fiat money, crypto coins, rewards etc.) and then used like cash.

Compliant
Taler complies with Regulation EU 2016/679 (GDPR)
Taler fulfills AML and KYC requirements and preserves privacy by design according to GDPR.

Scalable
To transaction levels of Mastercard and above
From large to microtransactions. Multi-currency or multi-asset. Multi-device. Transact by email or messenger.

Privacy-preserving
Neither payment providers nor banks learn personal data
Taler uses unlinkable coins created with digital blind signatures for privacy. This fosters informational self-determination for payers and payment system providers in e-commerce and m-commerce.

Economic
Taler is very efficient and its costs are very low despite high security and privacy
Aggregated transactions for lower operating costs are available, too.

No fraud
Taler eliminates fraud and offers privacy, security, and independence at the same time
Compare to credit card payments: With credit cards, security seems only an afterthought.